Greeting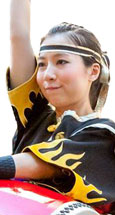 My name is Yukako Takahashi, team leader of Ryukyubudan Shoryu Matsuridaiko THAILAND.
Since my childhood, I have been spending more time in Thailand so I have only few experiences living in Japan; however, as I grew up, the more I spent time here in Thailand, the more I have opportunities to recognize myself as Japanese.
While I had been seeking something about "Japan" which I could involve here in Thailand,
in 2007, I had the opportunity to watch Eisa performance from Tokyo, at an event in Thailand.
When I saw it for the first time, it blew my mind.
I said to myself that I DO want to dance Eisa like them here in Bangkok.
That day became the first step to form our Thailand team.
Since then, Mr. Mizuno The head of Tokyo team supervised us and have lectured me Eisa performances. And we brought Eisa drums brone by one from Japan.
Thailand team was finally founded after 4 years.
Finally, May 23rd 2011, "Ryukyubudan Shoryu Matsuridaiko THAILAND" has formed.
These days, along an increasing number of Thai travelers to Japan, it's drawing many attentions to Japan. Unique Okinawa's rhythm and movement of Eisa attract many audiences.
Through our performances, we would like more people in Thailand to enjoy Japanese culture and entertainment. I'll keep challenging and step forward.
Thank you for all your support and assistance always.
Ryukyubudan Shoryu Matsuridaiko THAILAND
Team Leader Yukako Takahashi
Event Summary
"Ryukyubudan Shoryu Matsuridaiko THAILAND" is an Okinawa Drumming dance group, which was formed in Bangkok, Thailand
in May 23rd 2011 as an overseas branch of "Ryukyubudan Shoryu Matsuridaiko" the head of Tokyo team.
This group was formed in Thailand with the wish that Japanese people in Thailand to enjoy the entertainment and to bring back good memories of their home.
We also want Thai people to enjoy the Japanese culture and entertainment through watching our Eisa performance.
Ryukyubudan Shoryu Matsuridaiko THAILAND is participating in Japan-Thailand culture events and music festivals mainly in Bangkok and Sriracha.